A standardized uniform program has a long list of benefits: a more professional image, enhanced patient relationships, a sense of team spirit, and brand recognition to name of few. Unfortunately, a small to mid-sized medical practice typically doesn't have the resources to build, implement, and maintain a successful online scrub program. Until now…
Executive Summary
Raleigh Neurology Associates, P.A. is one of the largest and most respected neurology practices in the nation. Their 40,000 square-foot facility, conveniently located near Rex Hospital and Wake Medical Centers, offers complete neurological care, testing, and an on-site sleep center.
Newly hired medical staff are given an expense allowance to cover the cost of four (4) sets of scrubs. The practice covers an additional set for each employee per year. In addition, logoed apparel items (e.g., polo shirts, pull overs, jackets) are provided from time to time for non-medical staff.
Challenges
Employees purchase their own scrubs in whatever brand, style, and color that suits them. Decorating (via embroidery) individually purchased tops with the practice logo would have been a logistical nightmare, so all garments are worn "blank" with no company branding. In addition to missing out on the benefits of a standardized, logoed scrub program, processing expense requests for new employees and annual anniversaries is an administrative hassle. Finally, there isn't an easy way to purchase logoed gear for other staff, so it is hit or miss on who has apparel to wear and who doesn't.
Solutions
We deployed the Regency360 FasTrac™ Logoed Scrub Program. The client solicited input from employees, and landed on Cherokee and Dickies as their brands of choice.  Five tops, seven pants, and one jacket were made available for the women, along with two tops and two pants for the men. In an effort to get "buy-in" from their staff, the decision was made to initially to offer all colors, as they were accustomed to having complete control of their purchases. The customer planned to transition to a more limited, pre-approved color palette with the goal of a standardized uniform program in mind.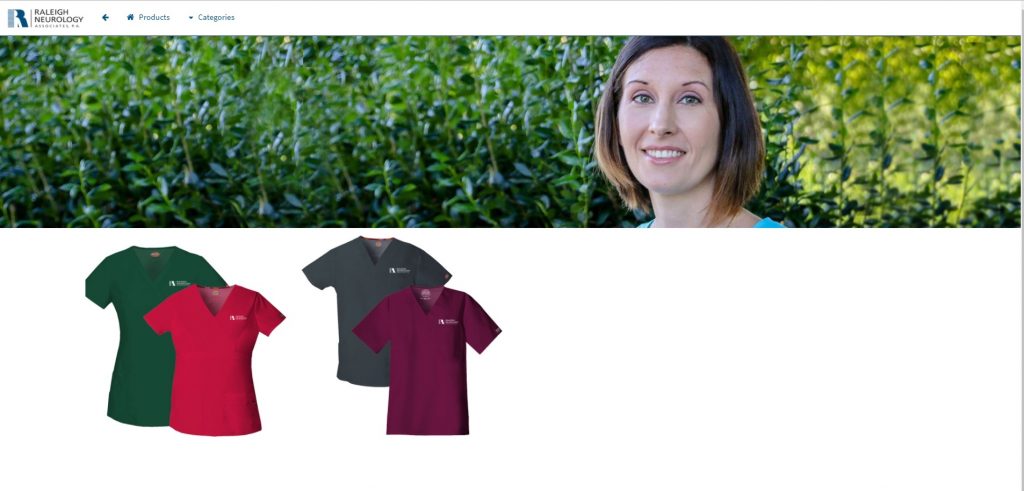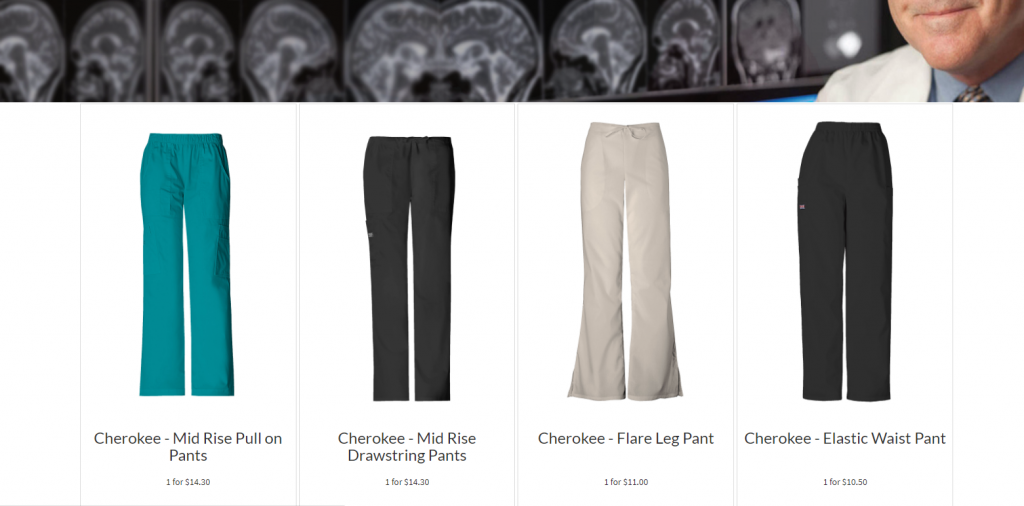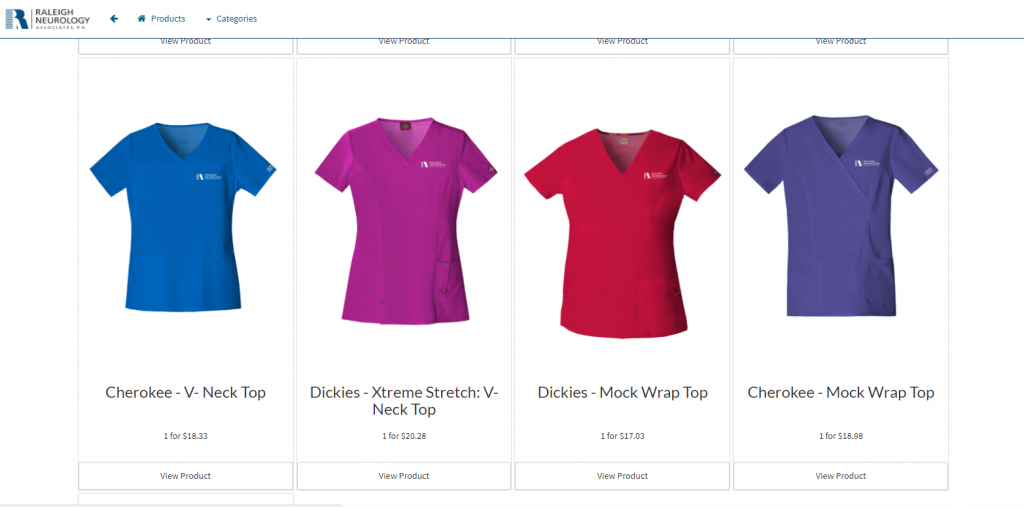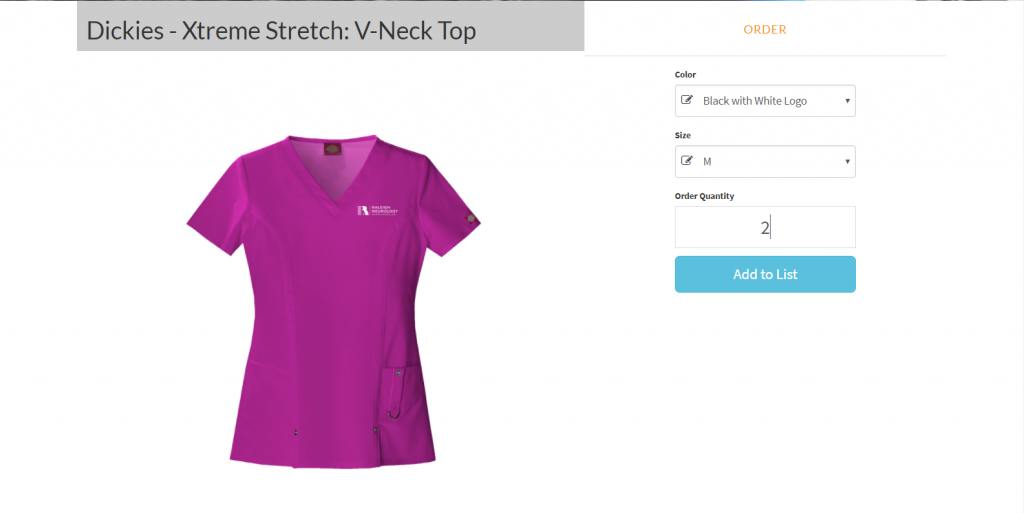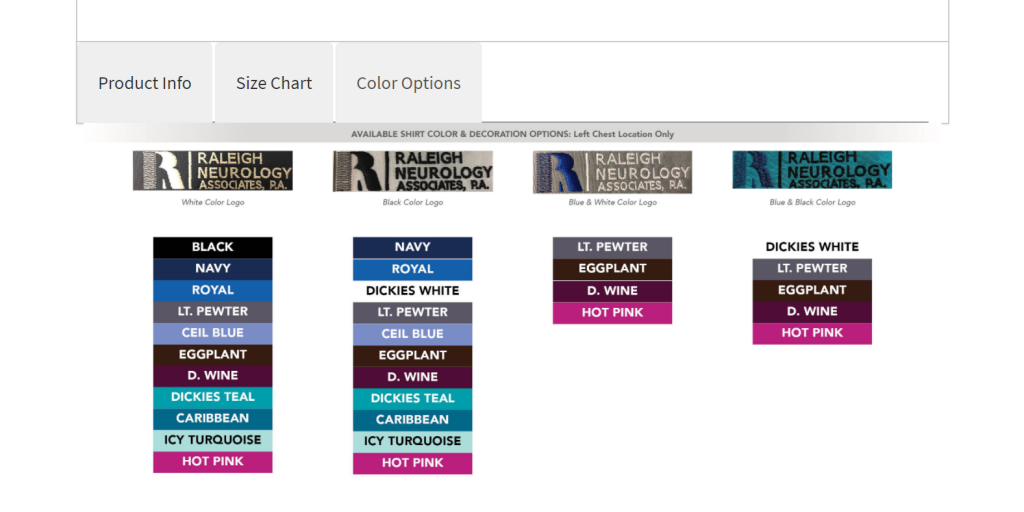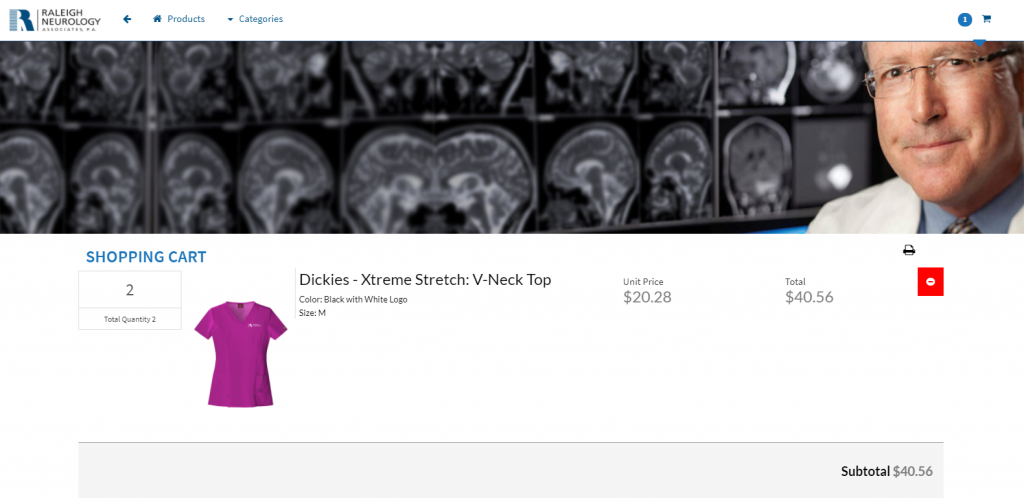 New employees were provided a $135 coupon code to use in the scrub store, eliminating the expense reimbursement process. A second bank of coupon codes in increments of $75 was created for employee annual anniversaries that management can distribute at will.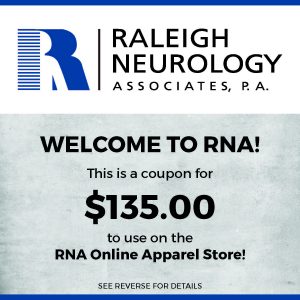 Also, employees were strongly encouraged to make their personal purchases (via credit card) for additional scrub sets from the company store. The combination of popular brands and styles, an easy online buying experience, the availability of logoed tops, and price points BELOW retail made this a no-brainer. Purchases could be made (via coupon code, credit card, or a combination of both) at any time, with no minimums, in quantities as low as one.
To meet their secondary need for additional branded apparel, another category was created for non-medical items including polos, cardigans, pullovers, woven dress shirts, and jackets. The company could use the platform to buy apparel for their staff at any time, and the client was billed directly. Employees that are interested in purchasing these items can do so at any time using their credit card.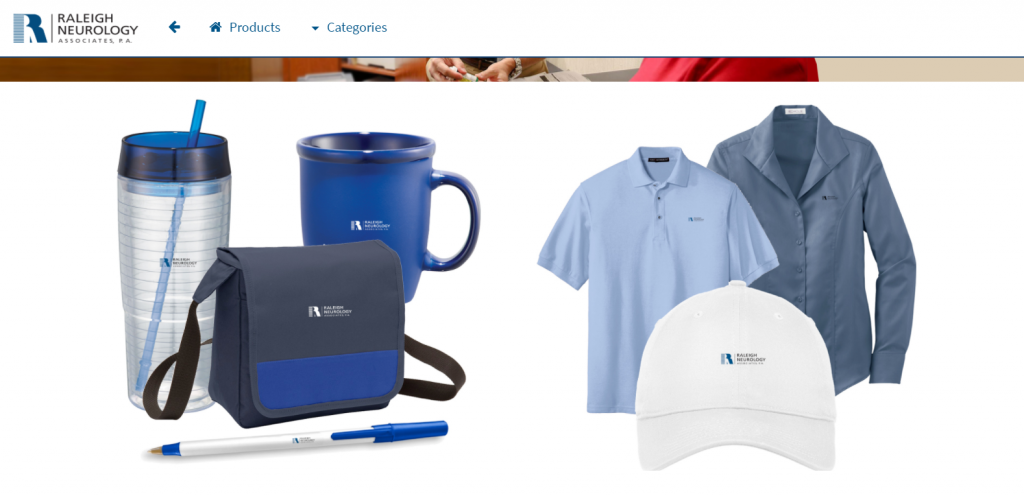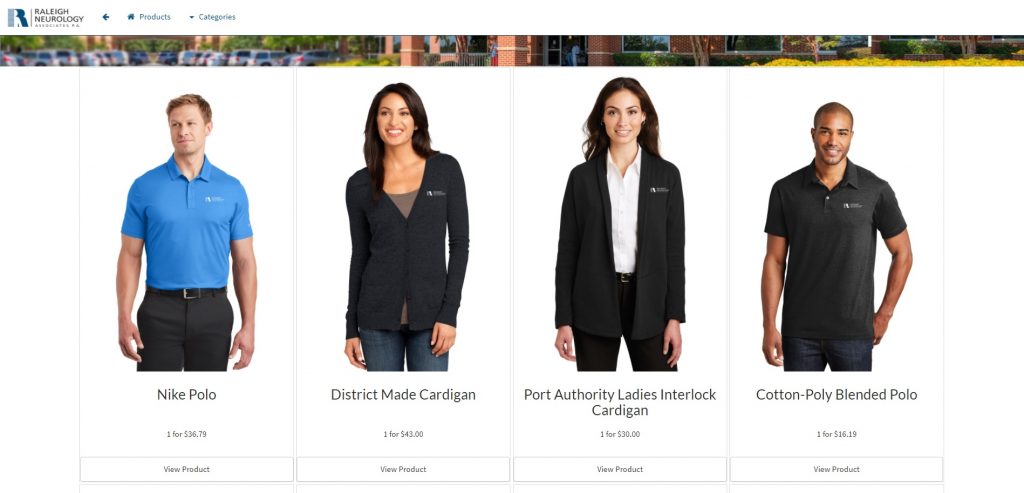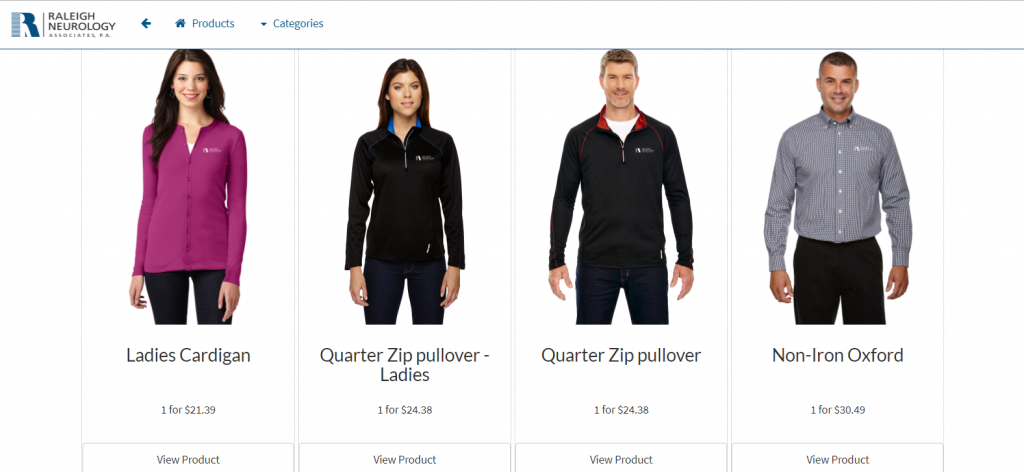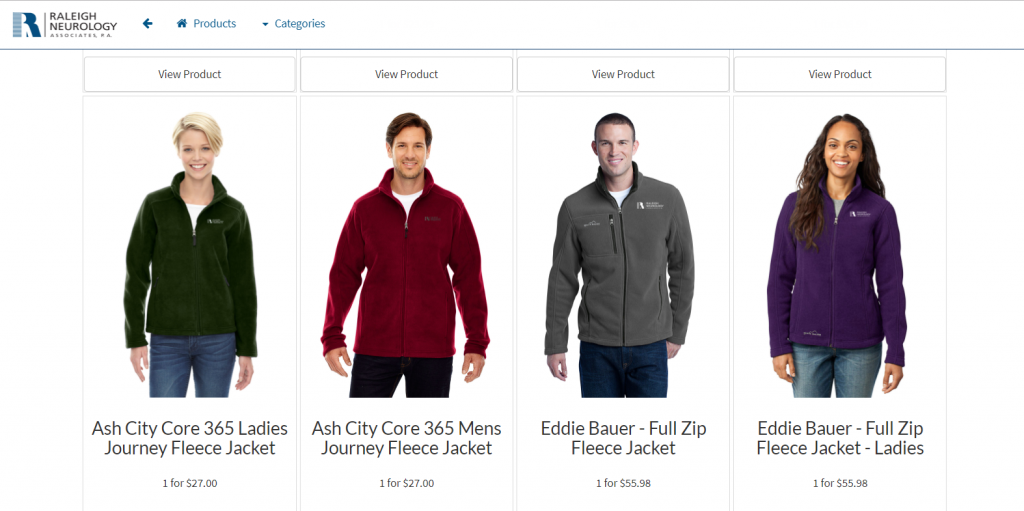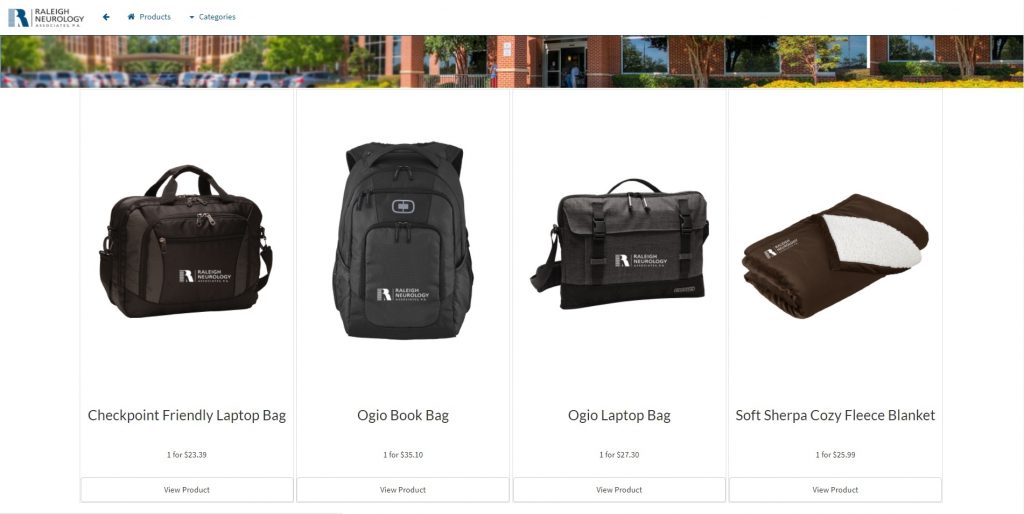 Results
The client has an easy to use ordering platform that is now the springboard for a standardized uniform policy that will promote the company image, make a strong impression on patients, and provide a valuable employee benefit. All staff has easy, online access to quality, logoed gear and that can be ordered at any time, one at a time.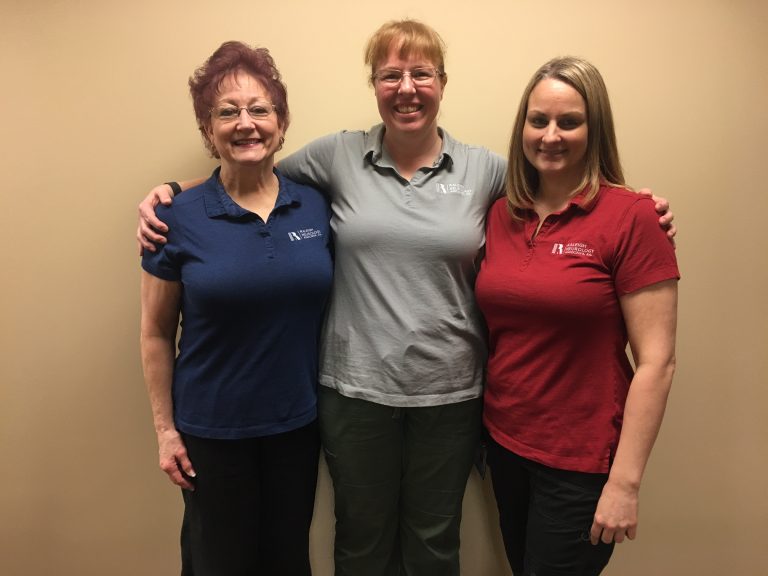 "We are excited about our new apparel platform. It not only relieves an administrative burden, but also provides our team an opportunity to showcase our brand. By adding additional "gear" for our non-medical staff, everyone can participate, and it gives us an engaging way to provide awards and incentives to our employees. It is great seeing our team members in their unique branded apparel!"
– KELLIE SCHMIDT, DIRECTOR OF HUMAN RESOURCES, RALEIGH NEUROLOGY ASSOCIATES, P.A.
Phillip Batten, Account Executive at Regency360 said, "Once I had a chance to talk to Kellie, I realized very quickly that we could help them move to a scrub program that was flexible but still gave them more control. We worked closely together to avoid "culture shock" and insure a smooth transition for their employees. They plan on adding more products and categories, so it will be rewarding to see the platform grow."