The textile industry has been a major contributor to water waste and pollution. Manufacturers haven't always put much thought into their sustainability practices. As a result of growing concern for the environment, many manufacturers are making strides to reduce waste and pollution by implementing sustainable practices into their supply chain process. Hanes is paving the way as an example of sustainable manufacturing for apparel. Their goal is to provide apparel in a low-waste, energy efficient manner without sacrificing comfort and quality.
Hanes hosted an advanced premiere last month of their new documentary titled Crop to Campus: A Journey of Sustainable Fashion. Christopher Fox, Hanes VP of Social Responsibility, and Michael Johnson, Hanes Director of Marketing participated in a question panel. They provided great insight into how the documentary came to be, and why Hanes places such a heavy emphasis on sustainability.
Furthermore, Michael Johnson explained that Hanes has a great story in terms of sustainability, people and planet. A lot of companies tell messages on these topics, but aren't always fully transparent. Therefore, consumers have trouble believing in their stories and real practices. Hanes opened up the doors to four college textile students, allowing them to see everything with full transparency and honesty.
The premiere attendees learned what really goes into crafting sustainable apparel, why transparency is important when it comes to sustainable practices, and how to appeal to today's generation. All attendees received a free ComfortWash tshirt in the mail as a "Thank You" for watching the documentary and panel discussion. Keep an eye out on our social media channels for a review of the ComfortWash tshirt from our Social Media Manager who was able to attend the online premiere.
Transparency Matters
For the making of Crop to Campus: A Journey of Sustainable Fashion, Hanes invited four college students from the North Carolina State University Textiles program to take a first-hand look at the entire supply chain and manufacturing process of the Hanes ComfortWash Tshirt line. This started with a visit to locally owned cotton fields of North Carolina. Their trip ended at the energy-efficient sew and dye Hanes facility in El Salvador. The entire process was presented with full transparency to the students. This gave them a deep inside look at the level of care taken when it comes to Hanes sustainability practices. Mamie Trigg, one of the four students featured in the documentary, had this to say:
"There are so many steps that go into making a t-shirt that you don't really think about. You just pay money for the final product. It's cool to see every step in the process and not take it for granted."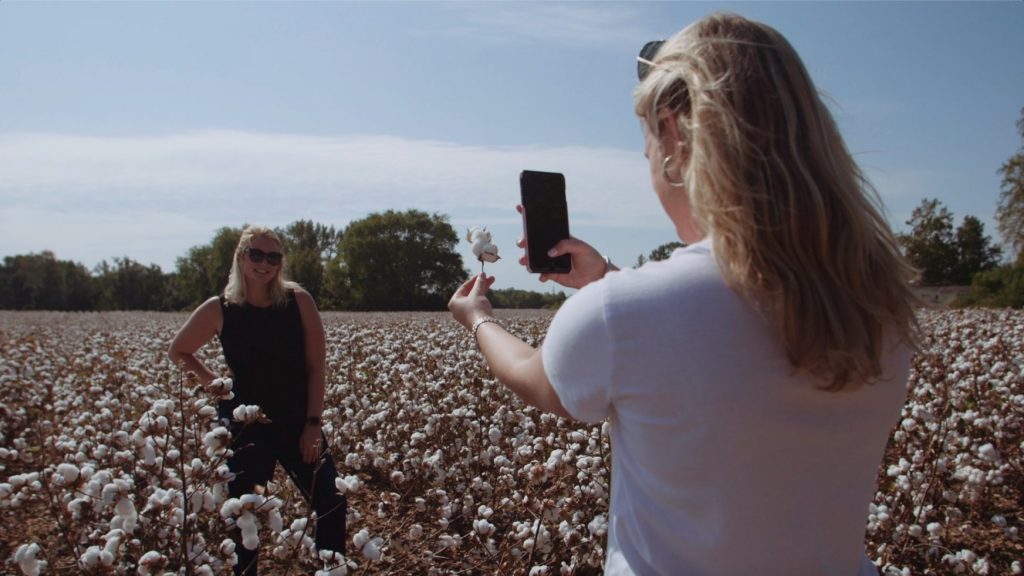 Sustainable from the Beginning
Every ComfortWash garment starts with U.S. grown cotton that is mainly raised and harvested in the southern states, on naturally irrigated local farms. At David Grant Farms in North Carolina, the 1500 acres of organically grown cotton is harvested by only four people. The farm uses very sustainable practices such as an advanced low-water irrigation system. As a result, the farm has lowered it's use of fuel and diesel. The cotton then travels to Parkdale Mills –  a zero-waste, energy efficient facility where the cotton is spun into a superior, softer yarn. This facility wastes nothing and puts everything to use – even recycling the byproducts as cotton feed.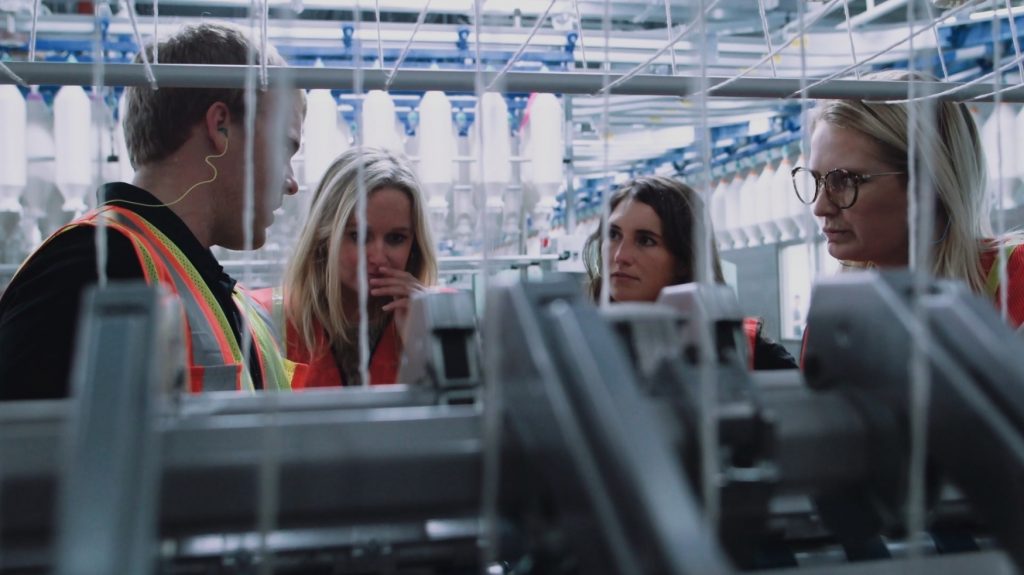 Next, the spools of yarn go to energy-efficient, low waste facilities across the globe for dyeing, cutting and sewing. The group of students went to the Hanes owned facility outside of El Salvador. This is the knitting, sewing, and dyeing facility where all the ComfortWash shirts reach the final stage of production. The facility utilizes on-site renewable energy production, including its water-treatment process. Hanes is the #1 employer in El Salvador, and they also place a heavy emphasis on workplace culture and wellness. They have many resources and benefits available like their Future Moms program and Green for Good volunteer program. Additionally, they have a school for employees to help advance career paths within the company.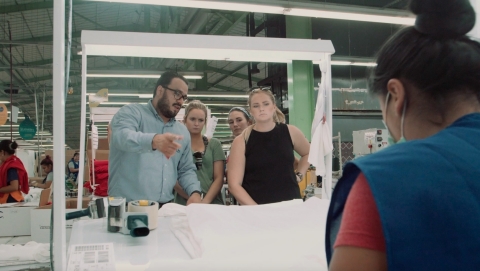 From the cotton harvest to sewing and dyeing the final garments – every aspect of manufacturing for the Hanes ComfortWash line has sustainability in mind.
Sustainability is a big deal to this generation. Therefore, Hanes continues to work on meeting their sustainability and environmental goals with this and the next generation in mind. Hanes believes that the key to being a successful manufacturer is transparency about manufacturing and sustainable practices.
To view Crop To Campus: A Journey of Sustainable Fashion, click here!